Model: AAC-804
Description:
AAC-8 series Overhead Ionizers are intelligent AC ionizers designed for use in ESD protected areas. The AAC-8 series Overhead Ionizers' discharge times (< 3 seconds at 30cm ) and low offset voltage (±10 volts) meet the required limits of ANSI/ESD S20.20 < ±35 volts tested per ANSI/ESD STM3.1 and ESD TR53. Its emitters are made of pure tungsten and spaced further apart to minimize ion recombination, increase discharge efficiency and provide a broader coverage area. The AAC-8 series Overhead Ionizers utilize an auto-feedback system that continuously optimizes its performance and automatically alarms and shuts down should its supply voltage drop. The AAC-8 series Overhead Ionizers include LED light panels (cool white) that provide additional illumination to the work area and improve visibility and productivity. The AAC-802 features one light panel, and the AAC-803 features two.
Features:
Intelligent modern, exquisite appearance, fine production, novel design.

Launch needle brush automatic cleaning function, automatic memory, no manual cleaning.

Remote control and touch dual control power supply to start and adjust wind power.

It has the function of high-voltage fault wind alarm and alarm lamp prompt, and has double intuitive understanding of hearing and vision Prepare to work properly.

Lock the wind speed by remote control lock screen and standardize the static electricity removal of ion blower in workshop.

When the fan encounters obstacles in the normal operation process, the fan will automatically short-circuit and stop working.

High speed of static electricity removal, low balance voltage and high safety performance.

Automatic switch between cold and warm air.
Specifications:
Fault Alarm

Buzzer/red light flashing

Auto clean button

Auto clean every 8 hours

Ion output voltage

Frequency conversion 5.0KV

Input Voltage

100-240 VAC, 50/60 Hz

Input Current

110 VAC, 60 Hz: 0.3A (2-fan); 0.4A (3-fan); 0.5A (4-fan)

220 VAC, 50 Hz: 0.2A (2-fan); 0.2A (3-fan); 0.3A (4-fan)

Discharge

3.0 sec (30 cm) (1000-100V high fan speed)

Balance

0 ±10V

Air Velocity

Fan Speed: 1 ft 2 ft 3 ft 4 ft 5 ft

Low: 500 350 250 200 150

High: 1000 700 500 400 300

Air Volume

2-fan:80-220CFM; 3-fan:120-330CFM; 4-fan:120-330CFM



Ion Emission

AC Ionization

Emitters

Tungsten emitter points

Controls Power

Remote control/touch dual start

Connectors

AC Power Cord outlet

Air Filter

30 ppi open cell polyurethane foam (optional)

Operating Env

Temperature 50-90°F (10-32°C); humidity 30-70% RH, non-condensing

Audible Noise

55-79 dB,measured at 2' in front of blower

Ozone Equilibrium concentration

<0.02 ppm

Dimensions

2-fan: 550*150*80mm; 3-fan:1000*150*80mm; 4-fan:1000*150*80mm

Weight

2-fan: 4.5 kg; 3-fan:6.6kg; 4-fan:7.0kg

Warranty

1 year limited warranty
Discharge Times:
Each point identifies the 1000V to 100V discharge times (in seconds)with high fan/low fan speed across the target area. Times are slightly higher with 230V/50 Hz unit. Times have shown to be less under typical operating environments.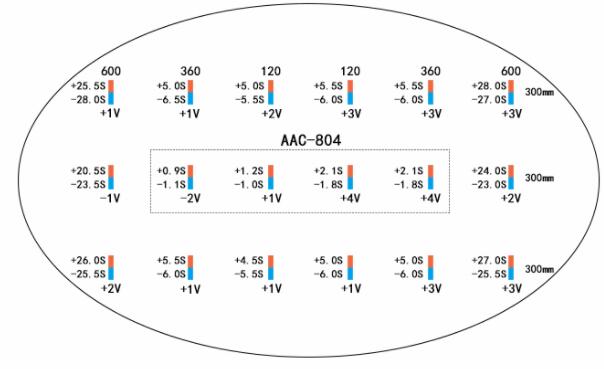 1.Tested in accordance with ANSI/ESD STM3.1-2015.
2.Velocity in fpm measured at center line of air stream; all values ±10%.
3.Testing Conditions: Temperature,22℃±5℃;RH,≤60%.
Installation:
Installation AAC-8 series Overhead Ionizer is designed to mount above the work area, providing even coverage without using valuable worksurface area. Mounting is a matter of personal preference. Use the included hanging kit to suspend the ionizer with its brackets, or secure its brackets to a shelf. Ensure that the mounting is secure and capable of supporting the weight of the ionizer. The power cord should be supported as well to protect the operator from any hazard.
The ideal mounting height is 18" above the worksurface, although the ionizer may be located slightly higher or lower if required. For optimum performance, ensure that the intake grills for the fans are not obstructed. Verify that the ON/OFF switch located at the back of the ionizer is in the OFF position. Plug the power cord into the ionizer, and plug the other end into a properly wired power outlet.
Maintenance:
Occasional cleaning of the case and of the ionizing electrodes are the only routine maintenance procedures required.
Cleaning the case :
Wipe the case with a soft cloth moistened with water. If a stronger cleaning solution is required, mild soap with water may be used. The use of any other cleaning solutions is not recommended.
Cleaning the emitter pionts :
NOTE: Disconnect the power to the ionizer whenever cleaning the emitter points. When the emitter pionts become dirty, the internal circuitry of the ionizer will be automatically adjusted to emit an equal amount of positive and negative ions. Particulates on the emitter point may, however, inhibit ionization to a limited degree. If a more rigorous cleaning method is needed to remove particulate, clean the points with a cotton swab dampened with isopropyl alcohol. Access to the points is available through the rear grill. Be careful not to damage the points during cleaning.